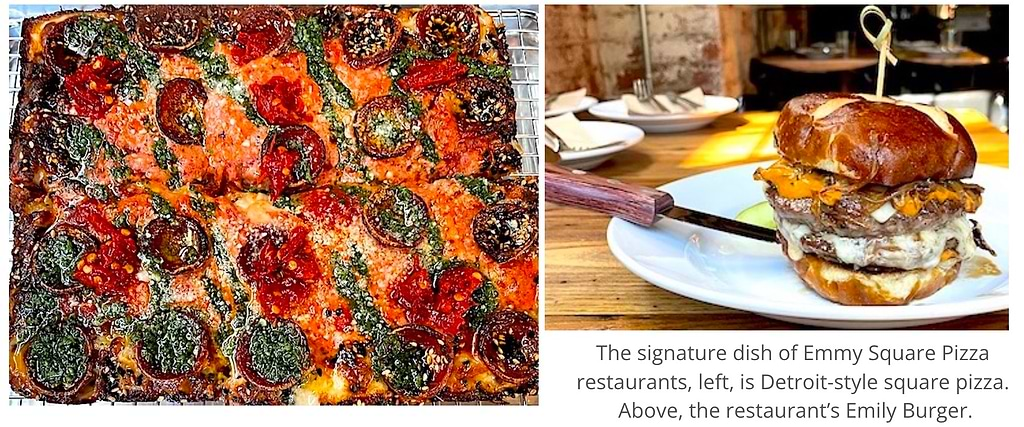 By Gretchen Webster
WESTPORT — Detroit-style pizza, craft burgers and a family-friendly welcome are on the menu at the new Emmy Squared Pizza restaurant, scheduled to open next week at Bedford Square.
Staff of the restaurant, set to open Tuesday, Sept. 5, at 1 Church Lane, wants Westporters to know they value a feeling of community, inviting friends and family to enjoy their food and friendly atmosphere.
"We treat everyone like family, that's what makes us different," said Bridgette Larson, Emmy's assistant general manager, as she supervised deliveries to the new restaurant Friday.
"This is a fun, inviting place," she said of Emmy Squared, opening in the downtown space formerly occupied by Amis Trattoria. "We're looking forward to having people come in and have an experience unlike any other."
That sentiment was echoed by Karin Salinas, chief marketing officer, for Emmy Squared, who said the restaurant's mission "is to bring people together around a meal and have a great experience that complements our food," she said. 

Chef Kevin Stoeffler, who was in from Atlanta to train the Westport staff, agreed: "We like to become part of the community."
Stoeffler was working with local chef Calin Sauvron, who won a competition on the television show "Chopped" in 2020, and her staff to prepare shareable salads, including an Emmy Squared top seller — a Brussels sprouts salad.
Also being prepared on Friday were a chocolate cookie in a skillet, an :Emily Burger," and — of course — pizza.
It's the pizza "that really makes Emmy Squared Pizza restaurants different because of the dough," Salinas said, which produces a light and airy crust to complement several layers of cheese and sauce in the restaurant's rectangular pies.
The result is what the Emmy Squared website describes as Detroit-style pizza, reflecting the company's "passion and objective to create crave-able foods — pizza being one of the most crave-able foods," she said.
The Westport restaurant is the company's 24th location, and first in Connecticut. 
Emmy Squared Pizza opened its first restaurant in Brooklyn in 2012, named after its founder Emily Hyland. There are now seven of the company's restaurants in the New York City area, plus restaurants in Philadelphia, Washington, D.C., and several southern East Coast states.
Emmy Squared also strives to include healthy foods in their menu offerings, Salinas said. Those selections include a vegan pizza and another with gluten-free crust. Lactose-intolerant diners can order dairy-free "cheese" for their pizza, Stoeffler said.
And don't forget Emmy Squared burgers, the chef said. He described the Emily Burger as dry-aged beef, topped with cheese, caramelized onions, pickles and sauce on a pretzel bun. The company's signature burger is "Le Big Matt," similar to the Emily — only bigger.
Exclusive to the Westport location will be a 10-slice pizza, rather than the standard six-slice pie, Salinas said, so more people can enjoy a meal together. The new pizza size is being tested in Westport because market studies show the town is a place "where groups of friends and families gather together," she said.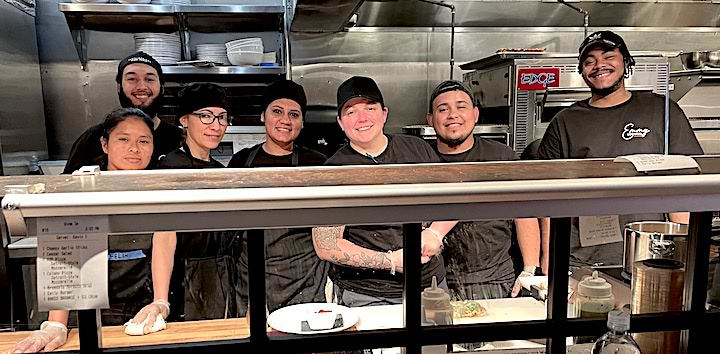 Westport was chosen as the site for the newest Emmy Squared restaurant for a variety of reasons, including personal affection for the town by company CEO Howard Greenstone, a New Yorker "who has fond memories of summers in Westport," Salinas said.
The Emmy Squared principals also liked the Church Lane location of the new restaurant, "which has beautiful natural light and is in the heart of the community," as well as its proximity to New York, she said.
"There's brand recognition. They know us from our New York location," Salinas added.
"We are your neighborhood restaurant."
Emmy Squared Pizza, 1 Church Lane, will be open Sundays through Thursdays from 11 a.m. to 10 p.m., and Fridays and Saturdays from 11 a.m. to 11 p.m. Call 203-571-3115.
______________________________
Freelance writer Gretchen Webster, a Fairfield County journalist and journalism teacher for many years, was editor of the Fairfield Minuteman newspaper for 10 years and teaches journalism at Southern Connecticut State University.