Generally, big ideas hatched on Bourbon Street are best forgotten.
But that's where Aman Kota and Sarthak "Shan" Samantray met in 2021. "It's where LUFU all started," Kota says. "I saw Shan and said, 'Are you Indian?' He said yes, so we started to party."
Along the way, they realized they both had culinary degrees from their native India. Kota was working at the Rib Room and Samantray at Jack Rose. "We started talking about our dream of owning a restaurant," Samantray says.
They both came to New Orleans right after college to work in restaurants. "We both saw that New Orleans is so different from other American cities," Kota says. "We wanted to know what this gumbo and jambalaya was."
They found out, but after almost five years of cooking Creole cuisine, they wanted to get back to their roots. "We figured, let's try a pop-up," Kota says.
The plan started with the name. "Shan liked LUFU: 'Let Us Feed U,'" Kota says. "I didn't agree at first, but we are always disagreeing with each other. Finally, I saw that it was catchy."
From the start, the idea was to offer regional Indian specialties — to go beyond the familiar butter chicken and chicken masala with dishes like pani puri from the north of India, Indo-Chinese dishes like chili gobi popular in Kolkata, and laal masa, a goat curry linked to Rajasthan.
Their first pop-up at the Royal Frenchmen sold out despite the rain. For a year, six days a week, they schlepped all over town, bringing a changing three-item menu to Parleaux Beer Lab in Bywater, Pepp's Pub in Marigny and Gasa Gasa in Uptown.
Along the way, they met another Indian chef, Sachin Darade, who was working at Mantra in Metairie. He quit his job and joined the partners when LUFU opened a stall in the Pythian Market in June 2022. But the market closed in December.
On the hunt for a space of their own, they signed the lease for 301 St. Charles Ave. in March and opened the 54-seat restaurant on July 11. Their families underwrote their restaurant, returning years of money sent back home by the 20-something entrepreneurs.
The building had been empty and needed work. "We had no jobs, so we focused on fixing up the space and the design," Kota says.
The brick walls are a dark shade of gray, offset by light wood, striking artwork and rattan accents. Team member Siddharth, who moved from Austin to work at LUFU, created a striking map of India defined by regional dishes, surrounded by LUFU spelled out in some of the country's 30 written languages. There are striking modern and traditional murals from local artist Ronald "Rite Side Ronnie" Martin. On display are three trophies won last year at the Food Fight competition.
LUFU's lunch menu includes quick options like naanwiches, naan pressed with fillings like chicken tikka masala or fried shrimp with mint chutney, along with tandoori salads and crunchy sweet and spicy chaats.
For dinner, expect elegant dishes that aren't seen at the typical curry house. Graze on fried yogurt balls with tomato chutney and one of the best calamari dishes in town, fried rings paired with curry leaf, dry masala, and cilantro-coconut chutney, also available with shrimp.
There are biryani dishes, house-made paneer scrambled with carom seeds and a creamy lamb shank with fried onions and cashews. The menu is keyed with symbols to indicate gluten-free, vegetarian and vegan dishes.
The bar offers an impressive lineup of Indian beer, as well as cocktails like the Desi Girl Spritz, a riff on a French 75 with gin and rose syrup. A compact wine list was curated to complement Indian flavors and runs $13-$17 by the glass and $70-$80 by the bottle.
For this ambitious trio of chefs, it's all about the long game. "We have energy for more restaurants," Kota says.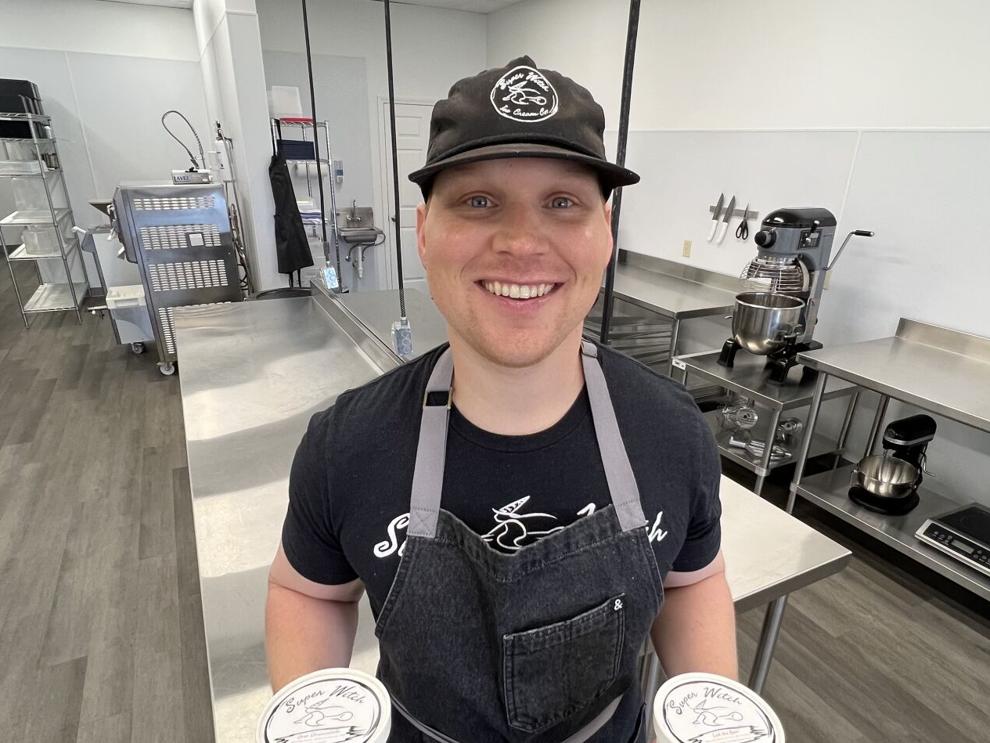 A love of ice cream spurred Briggs Barrios to start reviewing all sorts of pints on his (no-longer active) Instagram page @coldhardscoop. It w…
Vishal Kotagiri told Gambit about learning to cook, working in New Orleans restaurants and what's on the Everything Spice menu.