Koko, a UK brand of coconut-based dairy alternatives, has redesigned its milks and yogurts to make them more similar to dairy.
The product ranges have been renamed to M!LK and YOGRT!, and feature new packaging intended to "disrupt the market with dairy-like messaging". Recipes have also been updated to rival their dairy equivalents, providing more protein along with less fat and sugar. The aim is to position Koko products as "a true alternative to dairy", with the intention of appealing to a wider range of consumers.
"Despite having a loyal consumer base, we realised that there was some confusion over the taste of Koko products and what the brand stood for," said Victoria Eadon, marketing manager at Koko. "Fundamentally, we create plant-based products that are made from coconut but taste like dairy. A true dairy alternative."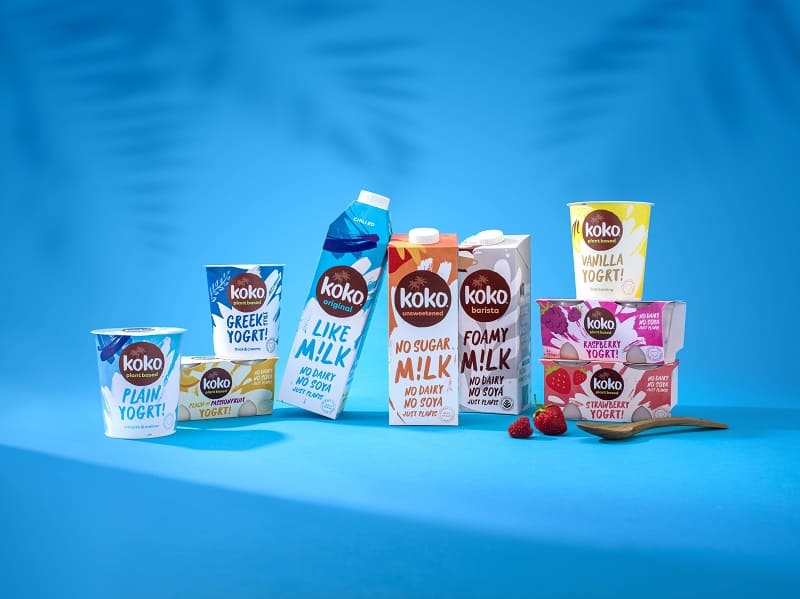 The plant-based products are also free from all 14 major allergens — including soy and oats — and are enriched with calcium, along with vitamins D2 and B12.
"More competitive than ever"
Launched in 2010, Koko claims to have been the first producer of coconut-based milk alternatives in the UK. The brand is now available at most major supermarkets, including Asda, Morrisons, Tesco, Sainsbury's, Waitrose, Co-Op, Booths, and Ocado.
"Our brand refresh reflects the taste profile of the product, dialling up the dairy-like, dairy taste cues and communicating this in a fun, energetic way to mirror Koko's personality," said Eadon. "The dairy alternative category is more competitive than ever with some big players, and as an independently owned business, we are proud to continue to offer a fantastic range of products without compromising on allergens or taste."