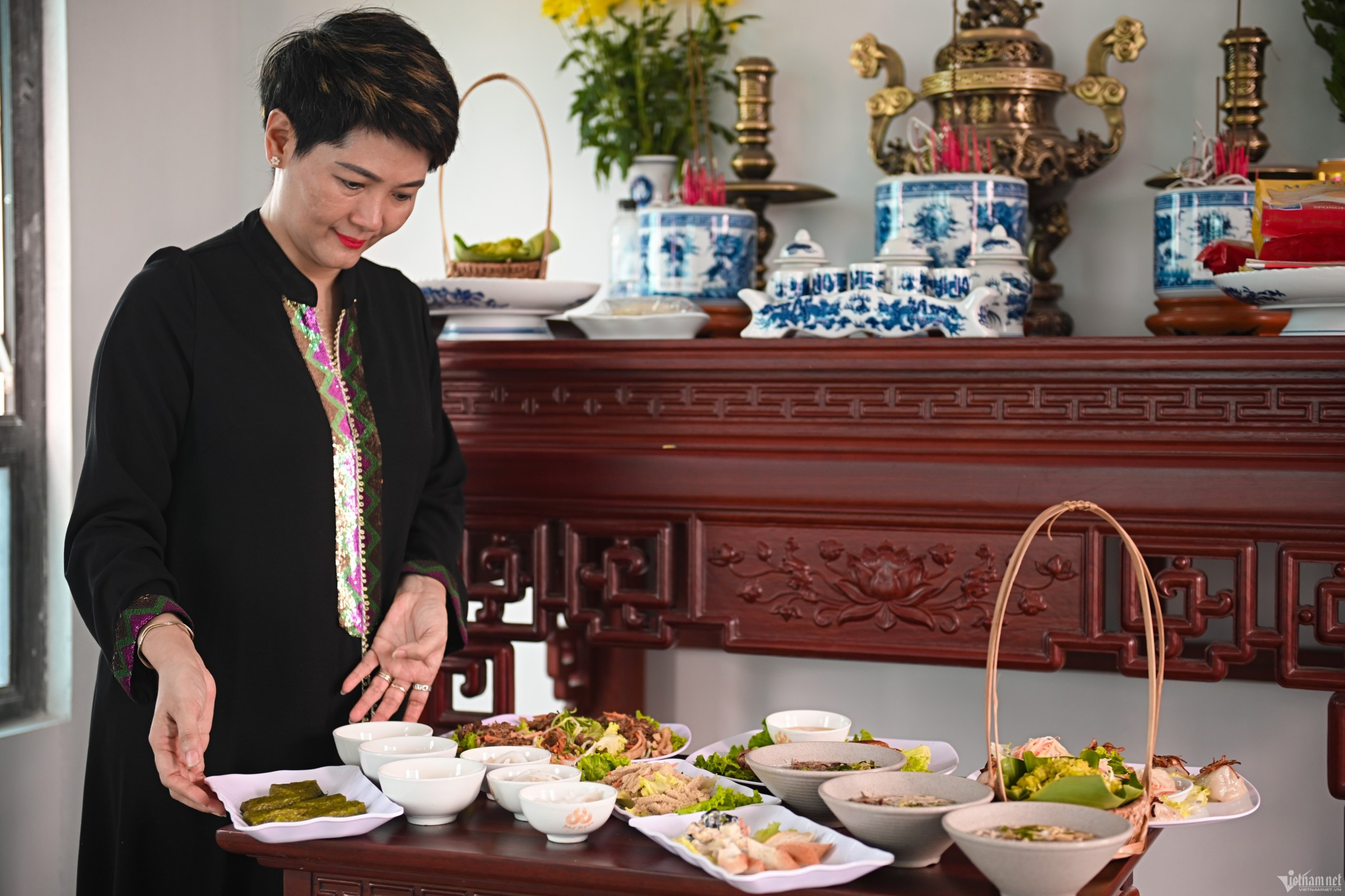 Truong Thi Le Nhung (madam Nhung) was born in 1973 into a large family which runs restaurants and hotels in the Old Quarter of Hanoi. Every year, when the seventh month of the lunar year comes, the kitchen of her family smells of young green rice, mushrooms and delicious vegetarian dishes.
"My grandmother was a Buddhist. She had a separate Buddhist altar at home. For more than 50 years of being a Buddhist, on every Vu Lan festival occasion, she made traditional dishes, especially simple vegetarian dishes to offer to the Buddha. Later, when the Vu Lan festival comes, I also go to the kitchen to make vegetarian dishes to worship the Buddha and the ancestors like she did in the past," Nhung said.
Nhung married when she was 20 and has four children. Each family member has a specific taste. To satisfy all of them, she has to search and improve recipes to renovate traditional dishes and create new ones.
"I prepare dishes meticulously for my family members to enjoy them. With traditional materials, I add a little bit of spices or reduce some materials to create new meals. I am happy when I see my husband and children enjoying the food. This gives me the driving force to continue to create new dishes," she said.
Fond of delicious food, Nhung turns herself into a food expert in her family's kitchen. As she can speak many foreign languages, she goes abroad many times to learn about the cuisine of neighboring countries such as China and South Korea. She has also been to some European countries.
"I was not born to become a cook. I am just a gourmet and I like eating delicious food. I like watching videos and reading books about cooking to satisfy my passion. I enjoy discovering local specialties and thinking of creating new methods of making these specialties," she said.
An important event occurred in 1998, which forced Nhung, who has two bachelor's degrees majoring in foreign languages and economics, to undertake the post of the chef of the family-run restaurant. Since then, she has decided to devote her life to create original delicious dishes to serve people.
Preparing dishes
Nhung said she is very particular about choosing materials for cooking. Clean and safe food must be the top priority. She always appreciates the freshness of products – true vegetarian dishes, not fake vegetarian: vegetables and fruits must be fresh and delicious, with their original colors; and mushrooms must be high-grade and fresh which is harvested at the right time to ensure their high nutrition level. She also pursues the principle of not using additives in cooking.
When processing and displaying dishes, she pays attention to mixing food by color so that the meals look natural and harmonious and stimulate the taste buds.
With just tofu, shiitake, carrot, cucumber, a little crushed almonds and a special sauce created with her own recipe, Nhung creates the Almond Tofu Salad. The dish is simple but full of flavor, nutritious and very good for vegetarians and Keto eaters.
Nhung said she never trims vegetables and fruits to decorate dishes because the decorated items will be thrown away, which is a waste of food.
She revealed that she never eats spicy food.
"The person who cooks vegetarian food well must be delicate in seasoning ingredients and understanding the taste of people who eat animal meat. I don't eat spicy food to protect my taste ability. The taste of the chef is very important to feel the full flavor and frugality of dishes," Nhung said.
All meals, no matter how delicious they are, will lose their appeal if they are eaten too often. Therefore, she always tries to create new vegetarian dishes. She can make traditional dishes, including sticky rice of different kinds, and European ones such as salad and cream soup. With her talent and creativity, the mother of four children can turn ordinary dishes into more sophisticated dishes with flavors suitable to modern trends.
Nhung admitted that it is very difficult to make vegetarian spring rolls, because the stuffing doesn't contain meat. She creates spring rolls from mushrooms and green rice, which vegetarians like very much.
Lam Giang – Minh Hoang