Blooming bright with Wonka-like whimsy in Broken Arrow's Rose District, Rainbow Bowls offers visitors the chance to experience cool concoctions that are health- and food allergen-minded while still tasting like a delicious indulgence.
The colorful treatery offers 12 different acai bowl combinations with add-in options like chocolate chips, house-ground peanut butter or vegan Nutella ($8+), dairy-free smoothies sweetened naturally ($8+) and fruity lemonades in which edible glitter can be added ($7). You also can find a new line of Rainbow Nut Butters with mix-ins like circus animal cookie, caramel candy bar and cosmic fudge brownie. 
"They're very fun peanut butters, all meant to be eaten straight from the jar," co-owner Shelby Brewster says. The 25-year-old runs Rainbow Bowls with her parents, Tera and Kurt Brewster.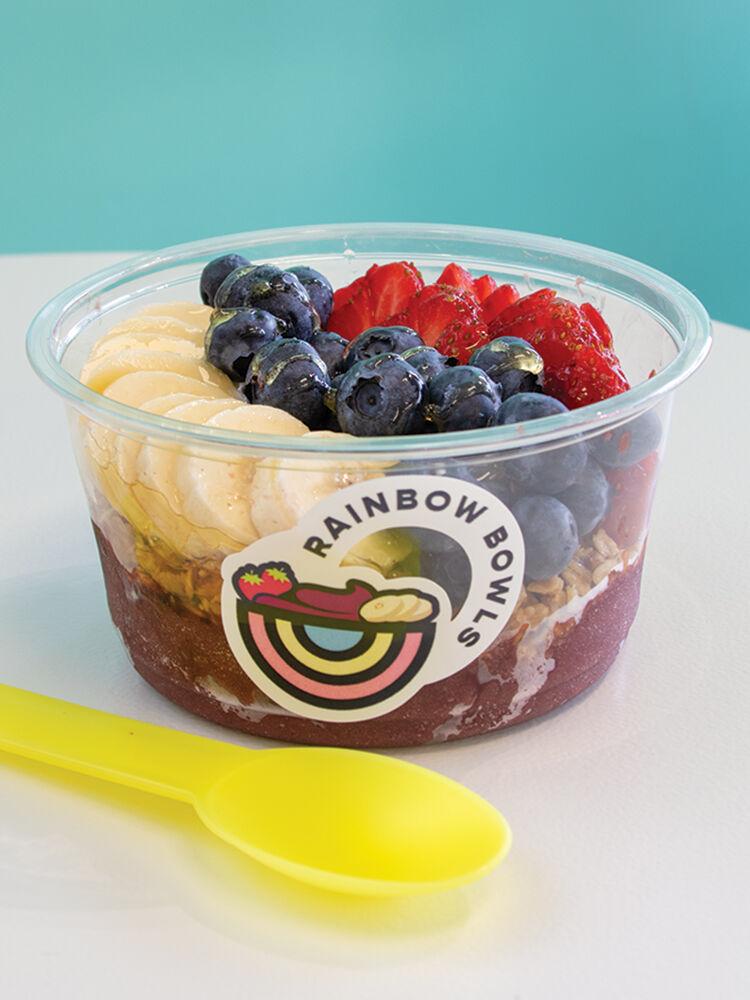 The most popular menu item is its namesake Rainbow Bowl, which begins with a frozen base of either acai, dragonfruit, Blue Majik (a fruity blend that includes spirulina extract), coconut, mango or cacao. It's then sprinkled with house-made granola and artfully filled with sliced bananas, strawberries and blueberries, and then finished with a generous drizzle of local honey (12-ounce, $8; 16-ounce, $11).
Rainbow Bowls' menu bursts with other refreshing treats that also are accommodating to those who eat gluten- and dairy-free, as well as vegan. 
A big focus of Rainbow Bowls is creating indulgences for those with food allergies or dietary restrictions to enjoy, as Shelby herself eats dairy-free. She and her mom both eat gluten-free as well. 
"When we would go to events like Mayfest or the Tulsa State Fair, there was nothing for us to eat," Tera adds. "So we started a food truck." 
The food truck, begun in 2021, was a success, and they opened the storefront location this past fall.
After enjoying a tasty treat, take a look around at the shop's retail offerings, like macrame hangings, jewelry and bags made of recycled plastic. All the items are handmade in Bali, and Rainbow Bowls sends 30% of profits back to the villages that crafted them. 
Also check out the full range of Rainbow Nut Butters at rainbownutbutter.com.
106 S. Main St., Broken Arrow | Instagram and Facebook: @rainbowbowls | 918-645-5855