Williamsport, Pa. — A new bistro is joining the food scene in Williamsport, offering not only new flavors, but a new outlook on food and eating.
Owners David and Nicole Malkin have started "Tiger Lily Ghost Bistro," a vegetarian-focused and vegan-friendly fusion restaurant in Williamsport. 
The fusion eatery looks to fill a gap in food options in the Williamsport area in two ways: offering a wide variety of cuisines and creating options for plant-based eaters.
Tiger Lily's offerings are expected to change, allowing them to switch between different cultural cuisines and/or blend cuisines in a fusion dish. For all dishes, customers can choose vegetarian or vegan, spicy or mild. Most meals will have speciality drink options: one with sugar, one sugar-free. 
During their first pop-up on Saturday, Aug. 26, the bistro served up Filipino Korean food to much success. They advertised their opening day with only a few flyers posted around town and limited spread on social media, but came away surprised by the feedback.
"We had people coming and saying 'we've been waiting for this.' It was quite an honor. Humbling," said David, who manages front-of-house operations for the bistro.
The business is currently operating out of the second floor kitchen at the Pajama Factory in Williamsport, one of the few physical sites available for "ghost kitchens" in the region.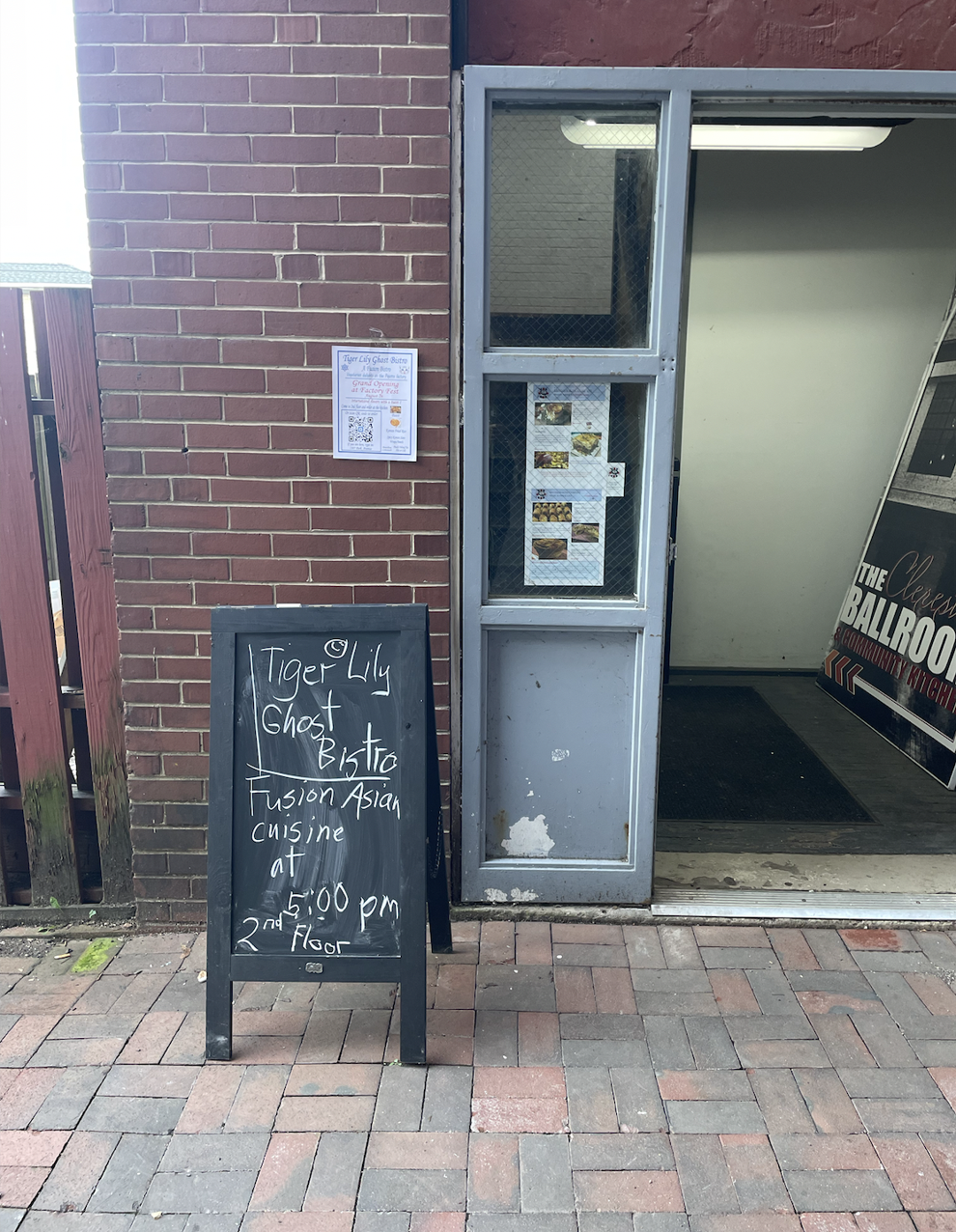 Ghost kitchens—a concept that gained steam during the COVID-19 pandemic—operate out of a rental kitchen space and sell food through delivery and pick-up orders placed online or by phone. The Pajama Factory's commercial kitchen is used on a rotating basis by community groups or pop-up businesses.
"We wondered, will people in Williamsport like this? The answer is a yes — a pretty resounding yes. So yeah, we're going to keep going. The sky's the limit," David said.
For now, Tiger Lily will continue operating as a ghost kitchen with a number of ordering options: Square App, Doordash, Ubereats, by phone, or orders upon arrival at the factory kitchen. Menu details will be posted and regularly updated on the bistro's Facebook page, including a QR code link to the menu.
The bistro will be open on Saturday, Sept. 2 and Sunday, Sept. 3; menu TBD. 
The inspiration behind Tiger Lily
The idea for Tiger Lily was born out of Chef Nicole's passion for cooking, vegetarianism, and the desire to create community and connect through food.
Throughout her life, Nicole, of Native American heritage, has been exposed to vegetarian cooking and a range of cuisines: she learned Chinese cooking by working for her friend's dad, a professional chef, for a number of years; she spent years in a French household; she worked in the kitchen of a strictly vegetarian Hindu temple; she lived out West as a child, exposing her to Mexican and Spanish cuisine; and most recently, she returned from China, where she spent seven years learning and cooking according to local traditions.
Most Chinese offerings in the area are Cantonese-style or what Nicole calls "American Chinese." Tiger Lily will offer cuisine influenced by the middle or inner region of China, which has a focus on hot spices and a range of vegetables and mushrooms that are not readily available in this area. 
In a Chinese market, one could pick up five to seven types of cabbage, a pound of Cordyceps mushrooms, or unique varieties of greens—like a pink and green spinach—Nicole said. She hopes to bring some of the authentic Chinese options to the table in Williamsport by ordering them in. She plans to approach all cuisines with the same authenticity.
The cooking philosophy behind Tiger Lily
Nicole sees Tiger Lily's focus on vegetarian food as a cultural statement.
"I want to raise awareness about animals. I want people to have more compassion, to see animals in a different light," she said, noting that she values animals as sentient beings with feelings and family structures. 
Nicole says her vegetarianism may have began in her youth when living on a farm among animals who she considered friends. "I remember helping [mom] feed the chickens and just walking around with the animals, and I remember them saying that they were going to kill the chicken to eat it. And to me, that that sounded so strange, because I had just fed the chickens." 
Also a proponent of vegetarian eating, David sees potential in marketing a business as vegetarian: "I don't think people are gonna stop eating meat overnight, but to at least have an alternative and realize that there's food that can be made that's just as tasty and filling."
"I love to make food that is so tasty that meat eaters want to eat it," Nicole said, before describing the way she molds soy protein to resemble the texture of meat and reimagines mushrooms as the bitey, meaty center of a plate.
"White Lily Ghost Bistro" represents the flexibility and hominess of the Malkins' take on food and the food itself.
Tiger Lily, Nicole's chosen Chinese name, harkens back to her love for flowers as a child and the personal nature of cooking and sharing food; and bistro, a style often referring to casual and simple food, speaks to the range and playfulness of Nicole's cooking: "I don't want to be stuck to one thing," she says.
From a business perspective, a ghost kitchen allows the "ghost bistro" to adapt. "We want to get a pulse on what people are wanting. And we're trying to make them happy. I mean, food makes people happy. It's a joy to eat good food," David said.
Above all else, the Malkins are making food with a "purpose": a love of connection.
"Let's get all different groups of people and let's have a potluck; let's have a meal together. Something happens when people sit down and eat together. The food is made with love and it's not made purely for money. It's made for people to enjoy each other's company," David said.