Known for its iconic Blizzards, ice cream treats, and savory burgers, Dairy Queen is a popular fast-food restaurant option whether you're looking for a quick dessert or a full drive-thru meal. But with all those soft-serve sundaes and crunchy chicken strips, it's clear that the DQ menu wasn't designed with health in mind. However, you may be pleased to hear that there are a few healthier items available among the high-sugar desserts and fried items.
Before your next visit to DQ, read through these picks for the best and worst menu items from every section of the Dairy Queen menu, from their signature creamy custards to their classic fast-food fare. This guide can help you make more informed menu choices and lead you to a healthier selection—even if you're picking up a dessert. It's worth mentioning that although a sweet treat and drive-thru meal can be part of a well-rounded diet, eating fresh food from home most often is more likely to benefit your health, as highly-processed fast food has been linked to weight gain, a risk factor for serious diseases and health conditions.
Here are the 14 best and worst foods from the Dairy Queen menu based on their nutrition. Read on, and for more, don't miss 8 Fast-Food Milkshakes That Are Made With Real Ice Cream.
Burgers and Sandwiches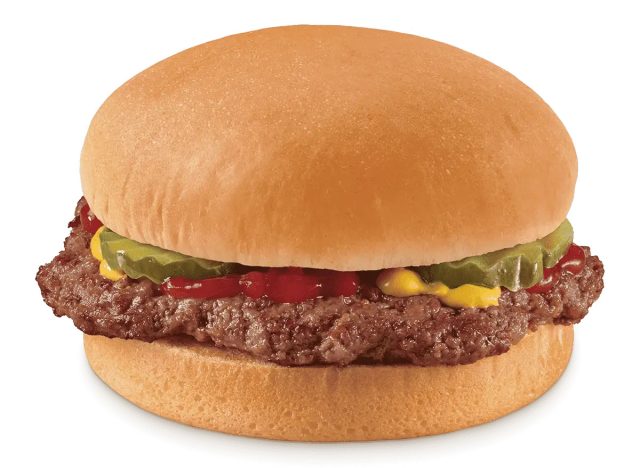 Nutrition: 350 calories, 16 g fat (6 g saturated fat), 670 mg sodium, 35 g carbs (1 g fiber, 7 g sugar), 20 g protein
A simple hamburger is a reasonable choice at DQ. At 350 calories, this meal can fit the needs of many different calorie ranges, and it packs 20 grams of satiating protein. Fiber is on the low end for a meal, so pair your burger with a side salad for an additional 2 grams of fiber, or add fresh fruit or veggies at home for even more of a fiber boost.
Nutrition: 1,020 calories, 67 g fat (27 g saturated fat), 2,310 mg sodium, 54 g carbs (1 g fiber, 15 g sugar), 50 g protein
The burgers at DQ come in double and triple options, and this menu item served as a triple is the highest-calorie burger on their menu. At over 1,000 calories, the Backyard Bacon Ranch Signature Stackburger provides nearly a full day's worth of calories for some people, and more fat than most require in a whole day. The amount of sodium exceeds the recommended daily amount, according to the Dietary Guidelines for Americans. If you simply can't pass up this burger, go with the double option to save 200 calories, and skip a slice of cheese and one of the sauces to save additional calories and saturated fat.6254a4d1642c605c54bf1cab17d50f1e
Nutrition: 910 calories, 65 g fat (27 g saturated fat), 1,820 mg sodium, 38 g carbs (2 g fiber, 7 g sugar), 56 g protein
Another burger option with an impressively high number of calories, the triple patty option comes in just under 1000 calories. Three beef patties, bacon, cheese, and a spicy sauce make up this FlameThrower ½ lb. Signature Stackburger that is known for its heat. The nutrition facts on this burger make it one of the worst options among all of their burgers and sandwiches. But, if you want to give it a try, enjoy just half for a meal and pair it with fruit or vegetables to add fiber and valuable nutrients. Save the other half for another meal, or share with a fellow DQ lover.
Chicken Baskets
Nutrition: 210 calories, 8 g fat (2.5 g saturated fat), 610 mg sodium, 1 g carbs (0 g fiber, 0 g sugar), 34 g protein
While I wouldn't consider this to be a balanced meal, the Rotisserie-style Chicken Bites is a great protein source that can easily be paired with options to create a healthy meal. A large order of these 100% white meat chicken bites comes with your dip of choice and packs an impressive 34 grams of protein and just 2.5 grams of saturated fat. Serve over lettuce and veggies from home for a filling salad, or pack in a whole wheat wrap with veggies and avocado for another balanced meal option.
Nutrition: 320 calories, 15 g fat (6 g saturated fat), 870 mg sodium, 10 g carbs (3 g fiber, 5 g sugar), 37 g protein
If you aren't able to take the solo chicken bites home to add to your own salad mix, this prepared salad option at DQ makes for a great meal. As listed, the Rotisserie-style Chicken Bites Salad Bowl provides a nice balance of nutrients and makes for a filling meal. Keep in mind these nutrition facts don't include the dressing, which can add a significant number of calories and grams of fat. To limit additional fat grams in this meal, go with the fat-free or light Italian dressing options that each provide fewer than 30 calories per serving.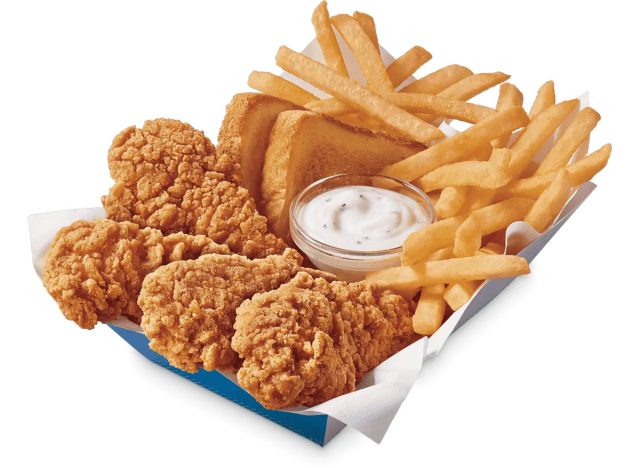 Nutrition: 1,300 calories, 61g fat (11 g saturated fat), 2,750 mg sodium, 139 g carbs (8 g fiber, 5 g sugar), 48 g protein
One thing the Chicken Strip Basket has going for it is 8 grams of fiber. While this is a great amount for a meal, the fiber is accompanied by 1,300 calories and over 2,700 milligrams of sodium. Even with the high fiber count, you're better off skipping this meal. Six chicken strips, Texas toast, fries, and dipping sauce make up this meal loaded with fat and a very high carb count. Scale back to a 4-piece basket to save close to 300 calories, and skip the bread and some of the fries to save even more.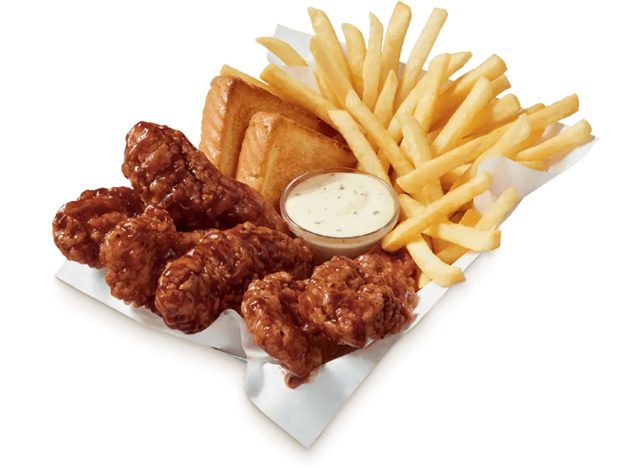 Nutrition: 1,480 calories, 61g fat (11 g saturated fat), 3,750 mg sodium, 186 g carbs (9 g fiber, 48 g sugar), 49 g protein
At nearly 1,500 calories for a 6-piece, these saucy chicken strips are the worst of the chicken basket offerings from the Dairy Queen menu. The Honey BBQ Sauced & Tossed meal packs an entire day's worth of calories, well over your daily sodium need, and an excessive amount of sugar. Even dropping to a 4-piece meal keeps calories over 1,100, making this meal one of the least healthy on the entire menu. Our advice: skip this meal altogether and stick with the plain chicken strips. Even better, go with one of the rotisserie chicken options.
Treats
Nutrition: 160 calories, 4.5 g fat (3 g saturated fat), 65 mg sodium, 25 g carbs (0 g fiber, 18 g sugar), 4 g protein
If you are looking to satisfy your sweet tooth, the Vanilla Dip Cone is one of your best options off the Dairy Queen menu. At only 160 calories for the kid's size, it won't take up many calories and actually provides a few grams of protein. Although it comes along with 18 grams of sugar, this is one of the lowest amounts you'll find in the "treats" section of DQ. If you are a chocolate lover, you can get a chocolate-dipped kid's cone for an additional 40 calories and 2 more grams of sugar.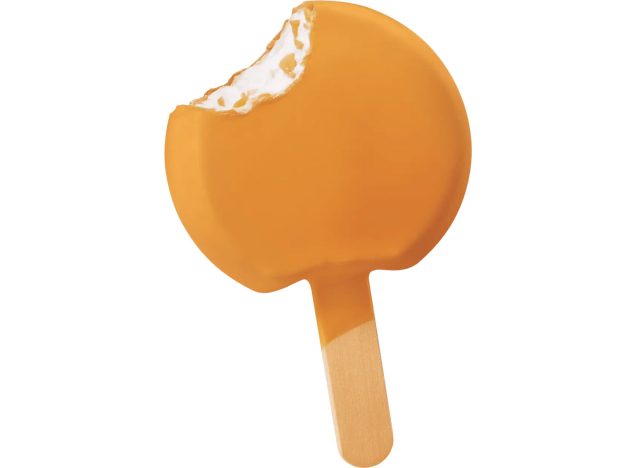 Nutrition: 200 calories, 12 g fat (10 g saturated fat), 60 mg sodium, 22 g carbs (0 g fiber, 19 g sugar), 3g protein
A classic item at DQ, the Dilly Bar comes in a few different flavors. The butterscotch option provides the lowest number of calories and grams of sugar, making it the best choice. This dessert is simply a vanilla soft serve with a coating of chocolate, cherry, or butterscotch flavoring. Sometimes the simplest of treats can be more satisfying than the over-the-top sundaes and blizzards you'll find in the "worst" section of this list. And, if you are dairy-free, there is an option made with coconut cream!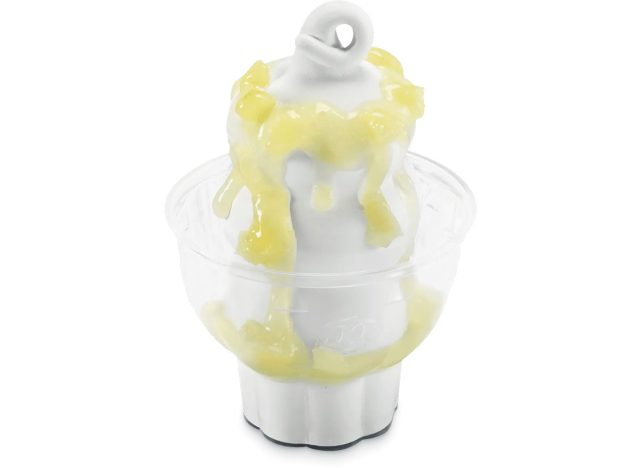 Nutrition: 230 calories, 7 g fat (4.5 g saturated fat), 85 mg sodium, 38 g carbs (0 g fiber, 33 g sugar), 6 g protein
Although the Pineapple Sundae has more sugar than is ideal for a single dessert, it provides much less than most other desserts at DQ. It also only comes in at 230 calories and 7 grams of fat, making it a better treat. However, don't be tempted by a bigger size. The large option has more than double the sugar and calories, making it a choice you are better off skipping.
Nutrition: 760 calories, 29 g fat (14 g saturated fat), 390 mg sodium, 117 g carbs (2 g fiber, 90 g sugar), 11g protein
Don't let the 2 grams of fiber and 11 grams of protein in this dessert fool you. The HEATH Caramel BrownieCupfection provides more than a reasonable meal's worth of calories and close to 100 grams of sugar. Although this dessert will certainly satisfy your sweet tooth, skip past this as a regular dessert order. Unfortunately, it is only offered in one size, so you can't save calories or sugar with a smaller order.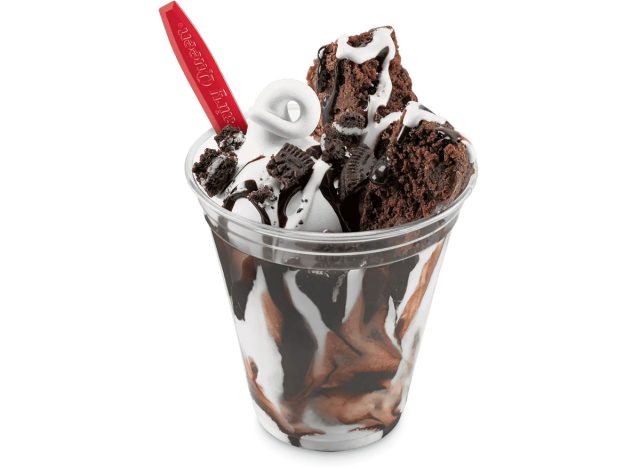 Nutrition: 720 calories, 23 g fat (9 g saturated fat), 330 mg sodium, 122 g carbs (2 g fiber, 96 g sugar), 10 g protein
Although I'm sure a delicious treat, the Brownie and Oreo Cupfection packs way more sugar than you should have in an entire day, let alone a single dessert. Loaded with brownie and Oreo cookie pieces, chocolate sauce, and marshmallow topping over vanilla soft serve, this treat packs rich flavor and a ton of calories. Another option that only comes in one size, save this for extra special occasions and consider sharing it with someone else to spread the calories and sugar.
Nutrition: 1,350 calories, 61 g fat (28 g saturated fat), 700 mg sodium, 177 g carbs (3 g fiber, 141 g sugar), 25 g protein
Perhaps the most well-known Dairy Queen menu item is their Blizzard. A combination of soft-serve ice cream and a wide variety of toppings and sauces make up this category of desserts with endless options. Along with all of these options come high counts of calories, saturated fat, and sugar. Although the Royal New York Cheesecake Blizzard Treat does have a meal's worth of protein at 25 grams, it packs over 1,300 calories and 177 grams of carbs. Even with the high protein count, skip this dessert or enjoy it in the mini size for 450 calories.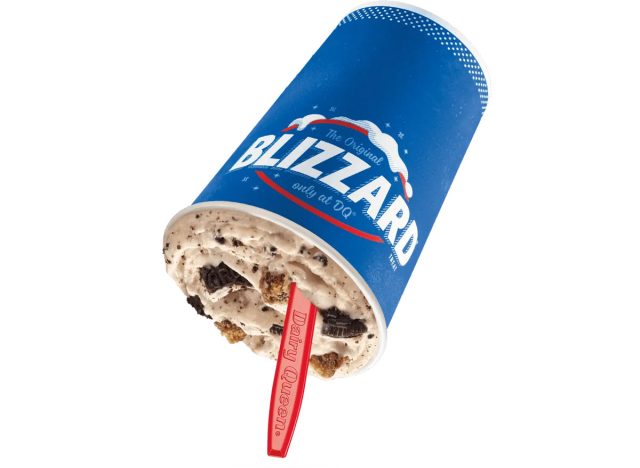 Nutrition: 1,590 calories, 73 g fat (29 g saturated fat), 1,000 mg sodium, 212 g carbs (3 g fiber, 155 g sugar), 23 g protein
Who wouldn't love soft serve packed with Oreo® and brookie pieces?! If this is new to you, a brookie is a brownie and cookie baked together, making for an extra decadent treat. Sure, the rich flavors and cool ice cream make for a satisfying summer treat, but the large size of Dairy Queen's OREO® Brookie Blizzard® Treat packs more calories than even the worst meals on this list. Although the mini version packs just 480 calories, a number much lower than the large size, you're still better off splitting this dessert with someone else or enjoying it across several days to limit the added sugar you have in a single day.