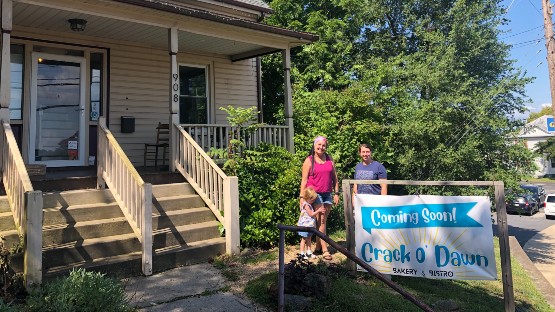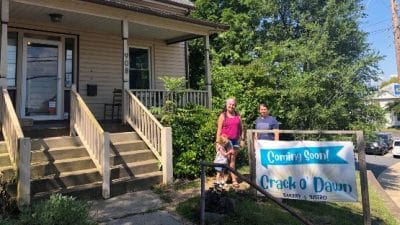 When considering a name for her new bakery and bistro in Waynesboro, Elizabeth Easter thought of sayings about breakfast.
Then her husband and co-owner Devon Mayfield said: "Well, you're up at the crack of dawn making the donuts."
And inspiration struck her like butter in a pan.
Crack O' Dawn Bakery & Bistro will open in mid-September at 908 W. Main Street with only gluten-free baked goods, breakfast and lunch options.
Co-owner Tammy Melton, who is Mayfield's mother, is gluten free. Easter said they also chose only gluten-free food because more and more customers are becoming gluten free.
"Kind of a fast, casual [restaurant]," Easter said of the atmosphere planned for the new bakery, which replaces Farmhaus Coffee on Main Street.
Crack O' Dawn actually made a debut at this year's Red Wing Roots Music Festival.
Easter, who lives in Stuarts Draft, is known for Elizabeth's No Wheat Sweet Treats at the Waynesboro Farmers Market.
"They're kind of two separate things that are going to merge together," Easter said of a brick-and-mortar location for the bakery. "So, because I already have the customer base with the bakery, we're moving that space into here, but I want people to know that it's so much more than just the bakery."
Crack O' Dawn will be open Thursdays through Tuesdays from either 6 a.m. to 5 p.m. or 7 a.m. to 5 p.m., and closed on Wednesdays.
Melton, who lives in Stuarts Draft, said at some point they would like to add dinner on Saturdays and call it "Sunset Saturday." They would also eventually like to provide catering and host events at 908 West Main Street.
The new bakery and bistro is made possible by a GROW Waynesboro grant of $25,000, which Easter was awarded in April 2023, along with three other businesses.
But the journey to Crack O' Dawn began last August when Easter and Melton began to look for a location, including where The Purple Foot was on Broad Street in Waynesboro. Financial funding did not work out so the business partners continued looking until they heard Farmhaus was moving to Basic City.
"It all just fell into place," Easter said of the timing.
According to Easter, a featured artist from the Shenandoah Valley Arts Center will have artwork on the walls at Crack O' Dawn for customers to enjoy while they sit and enjoy breakfast or lunch. The featured artist will be available one day each month to meet customers. A coffee vendor will also be featured every quarter.
"We want people to know it's so much more than just coming to get a coffee and a pastry. It's a full place to get breakfast," Easter said.
Menu items will include sandwiches, quinoa bowls and soup.
"It'll be a safe place for people who have gluten allergies to eat," Melton said.
Dine-in, carry out and DoorDash will be options at Crack O' Dawn.
A grand opening with a ribbon cutting is scheduled for 11 a.m. on Friday, October 27, 2023.
Follow Crack O' Dawn on Facebook for updates and soft opening date.